Lightboxes
Photoswipe with Masonry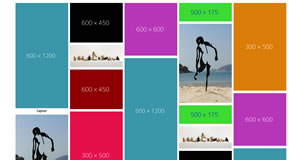 Masonry to make the thumbnails beautiful. Swipe-capable light-box style gallery with captions. A little finnicky so I've disabled the share and full-screen capability, but should be able to re-add this if necessary. For documentation check the Photoswipe documentation and Thrive Web site for the Masonry bits.
3D Grid Effect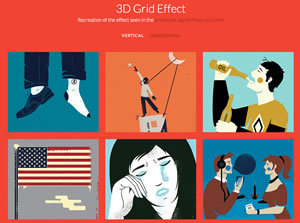 Another Codrops creation that features advanced CSS3 effects to reveal content behind an image grid
Fancy Moves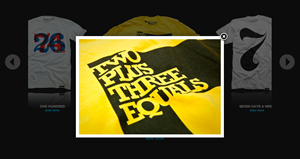 This combo scroller / viewer is something different. Browse different products (images) and then view the gallery for each - it is possible to show many images per product. Not bad huh? Please note that navigation arrows for the sub-items (hover) do not appear on touch-devices such as iPad, tablets and smart phones.
Lightbox v2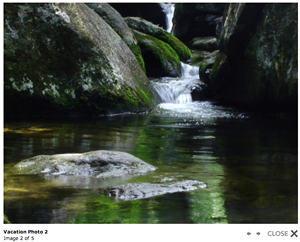 Lightboxes work by expanding a box to fit the size of your image over a greyed-out or transparent background. Previous / Next image buttons enable the next or previous photo in sequence to be viewed along with a caption box.
Phatfusion Multi media viewer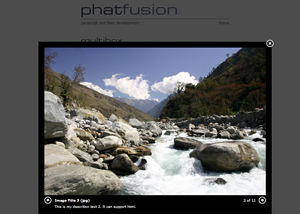 Very versatile lightbox that not only displays images but all types of media, including audio and video files and even other webpages..
Shadowbox Multi media viewer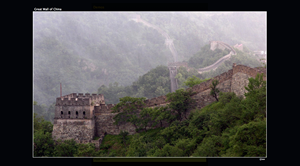 A similar product to the PhatFusion multibox, showing images, video, audio or webpages. Operable also by keys as well as mouse navigation (for galleries).
Fancybox viewer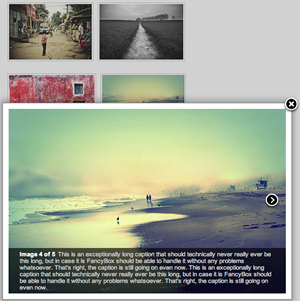 A good lightbox option that has a more modern appearance than some. Unobtrusive 'next' and 'previous' arrows for the successive image appear when you mouseover close the photo border. Another nice feature of this lightbox is that the caption is not limited to just a single line or paragraph. It also features an image counter for improved useability.